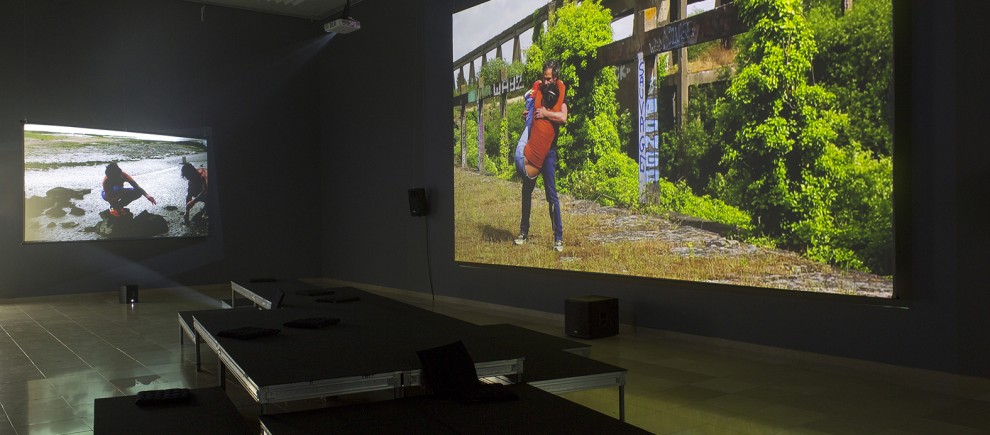 EMMANUELLE HUYNH - JOCELYN COTTENCIN
de vertical, devenir horizontal, étale
24.11.2021 > 27.03.2022
In 2014, Emmanuelle Huynh and Jocelyn Cottencin began researching urban landscapes through gesture and movement, history and its inhabitants.
The first chapter in this series of city portraits concerns New York, and is entitled A Taxi Driver, an Architect and the High Line (2016). The second is on Saint Nazaire: Nous Venons de Trop Loin pour Oublier Qui Nous Sommes ("We Have Come too Far to Forget Who We Are"), 2019. Their process is to encounter the inhabitants and experience the energies present around them, collecting their words and extending their gestures, gathering memories, and, from them, generating actions and experiences.
Huynh and Cottencin come from different milieus: Huynh has a background in dance and performance art, while Cottencin is a practitioner of visual arts, graphic design and film. The duo came together over recurrent questions they shared in their respective disciplines, and the result is a collaboration that has created a space for expansion and experimentation.
---
Agenda
December 2023
M
T
W
T
F
S
S

01

02

03

04

05

06

07

08

09
10

11

12

13

14

15

16

17

18

19

20

21

22

23

24

25

26

27
28
29

30

31