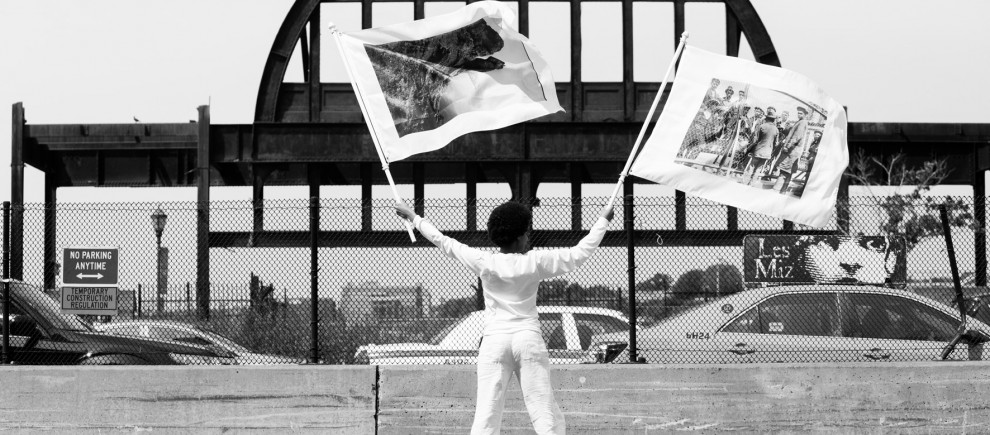 exhibition
latoya Ruby-frazier
Performing Social Landscapes
16.10.2015 > 13.03.2016
This is her debut solo exhibition at an art institution in France.
LaToya Ruby Frazier (born 1982) takes as the subject of the photographs her home town of Braddock, Pennsylvania, or rather the people who live there. This is the working-class suburb of Pittsburgh, where there used to be a large steelworks. For a number of years she has been working on those close to her and taking them as witnesses to the economic slump. Her work belongs to a long tradition of committed photographers including Dorothea Lange, Walker Evans and Gordon Parks. She is interested in three generations of women. Her photos keep coming back to her grandmother, her mother and self-portraits. Going beyond the bounds of the documentary photograph, LaToya Ruby Frazier produces complex compositions with multiple centrings and mises en abyme and calling on the performative gesture. Her contribution to the Pier 54 project on the New York City Highline was a performance in which she brandishes flags on which are printed historic photographs linked to the pier. She will be replaying that series on denim flags (denim being originally "de Nîmes", from Nîmes), with reference to her 2011 series Campaign for Braddock Hospital  in which she responded to a campaign for Levis jeans at Braddock.
She has exhibited mostly in the United States (MOMA, New Museum New York, the Whitney Biennale Museum or the Chicago Museum of Contemporary Art).
___
Exhibition teaser
___
Interview of LaToya Ruby Frazier
Catalogue de l'exposition
Agenda
December 2023
M
T
W
T
F
S
S

01

02

03

04

05

06

07

08

09
10

11

12

13

14

15

16

17

18

19

20

21

22

23

24

25

26

27
28
29

30

31